Food Security as a MDG; Lessons from Turkana, Africa
NEWS: FOOD SECURITY
What's the future of food security in East Africa?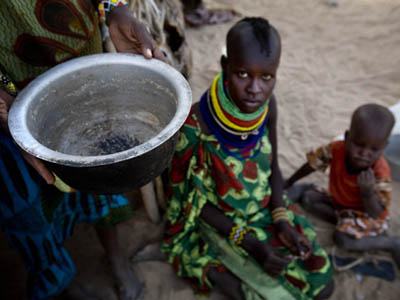 The last 15 years have seen considerable progress toward food security in East Africa all along the supply chain. Yet, as
Deloitte
Kenya's William Kedrock highlighted in a panel session at Devex's International Development Partnerships Forum in Nairobi, yields have barely increased since the 1980s.
"We have seen little progress in scaling up local successes," he said, "so are we asking the right questions about food security in east Africa?"
The first question to be revisited was whether East Africa could be made food-secure on the basis of an aging small-holder population, often seen as vital to feeding the region. All the panelists agreed that the small holder's share of East African agricultural production would decline in the coming decades.
John Logan of
TechnoServe
East Africa highlighted the difficulties small holders faced in securing investments: "Small holders have little capacity to absorb capital. Ninety percent of them are not organized and lack the credentials that banks usually look for before granting loans."
Replacing them, and offering new approaches to East African agriculture, will come from the youth.
"Young people, driven by necessity, bring with them an awareness of agriculture as both a science and a business," commented Gerald Macau Masila of the East African Grain Council. "They have also already been organizing themselves to find ways of securing funding that circumvent mainstream financial institutions."
John Logan added that "the problem will be convincing them to take the risks involved in borrowing money to invest in agribusiness."
Anne Mbaabu of the
Alliance for a Green Revolution in Africa
added to these comments: "This will require some deeper and wider thought regarding ways to convince them to remain in agriculture, but it is the youth of East Africa and not a mass of aging small holders which will bring food security to the region."
The third key point on which the panel agreed is that these developments would be in vain without proper infrastructure to allow agricultural goods to move from areas of surplus to areas of deficit. Without roads to transport crops, and greenhouses in which to grow high-value goods in a short time frame, the problem of food security in east Africa will remain unsolved.
Kedrock also highlighted that East Africa produces enough food to feed itself.
"The problem is one of getting food to the markets where it is needed," he said.
Moving toward this goal will entail a gradual diminishing of the role of the small holder while the role of young people and their more business-like approach increases.
Facilitating this will require a paradigm shift on the part of NGOs away from their normal focus on the small holder, but the panel discussion concluded that this will be the future of food security in Africa.
Read more: